Talcum powder is made from talc and is commonly found in cosmetic products such as baby powder. Talc is a mineral consisting of silicon, magnesium, and oxygen. In powder form, talc absorbs moisture and cuts down on friction.[1] Talcum powder lawsuits claim baby powder manufacturers, mainly Johnson & Johnson, knew their talc was contaminated by asbestos. Asbestos is a naturally occurring mineral that can separate into microscopic particles and be easily inhaled, causing mesothelioma and asbestosis. Asbestos and talc both naturally occur in the earth, and mined talc can be contaminated by asbestos. Contact Counsel Hound today for a no-cost consultation and case evaluation if you or a loved one has been diagnosed with mesothelioma or other cancers from extended talcum powder use.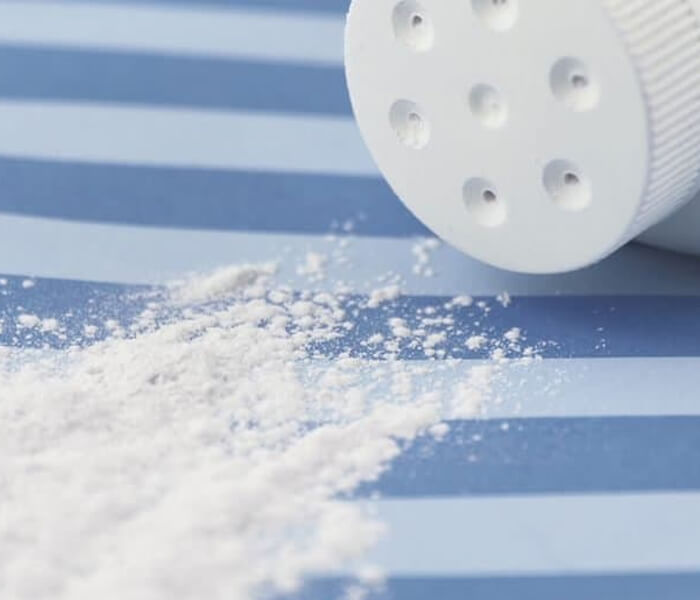 Talcum Powder Cancer Claims
Cancer research and studies suggest that asbestos-contaminated talc may increase women's chances of developing ovarian cancer when used on the genital area. The risk increases with prolonged use of talc. Compared to women who have not used talcum powder, exposed women are 30% more likely to be diagnosed with ovarian cancer.[2] Unfortunately, there is no recommended test to screen for ovarian cancer, making it unlikely to be diagnosed early.
Inhaling asbestos-contaminated talcum powder may also increase the risk of developing mesothelioma. Mesothelioma is a form of cancer that attacks the cells that protect our body's internal organs. It most commonly affects the lungs (85%) of older adults.[3] Unfortunately, it is difficult to detect early on, and the cancer is aggressive with a poor prognosis.
Ovarian cancer or mesothelioma diagnosis requires extensive testing by a doctor. Tests include but are not limited to x-rays, computerized tomography (CT) scans, clinical evaluation, blood work, and physical exams. Once a patient is diagnosed with mesothelioma or ovarian cancer, treatment requires a team of medical professionals to coordinate treatment plans. Doctors involved may include chemotherapy specialists, radiation therapists, surgeons, and nurses, to name a few. It is also important to seek out psychological support for the family during this difficult time as well. The diagnosis and subsequent treatment of asbestos-related diseases can be expensive, and Counsel Hound will work to include all available expenses in your compensation.
Johnson & Johnson faces over twenty thousand cancer-related claims alleging the company knew its talc products were contaminated with asbestos. After a Missouri Court rewarded 22 women with $2.12 billion in damages, Johnson & Johnson set aside $3.9 billion for talc-related litigation.
In 2018, Reuters news examined court-ordered Johnson & Johnson documents and found that the company knew their talc products were contaminated with asbestos in the 1970s but did not report it to the U.S. Food and Drug Administration (FDA).[4]
There are several options for filing talcum powder related claim:
Personal Injury claims are filed by the patient. Compensation may cover medical expenses, lost income, and the cost of pain and suffering.
Wrongful Death lawsuits are filed by the estate and/or family members after a loved one dies of contaminated talcum powder exposure. Compensation may cover medical expenses and funeral/burial costs in addition to other related expenses.
Trust Fund claims utilize the asbestos trust funds that negligent bankrupt companies have created to provide compensation to people harmed by exposure caused by the company.
Class Action claims have lawyers representing an entire group of affected people rather than individual clients. Members of a class-action lawsuit typically have less control over their case. Compensation is divided among all claimants involved.
Ovarian cancer and mesothelioma can leave you with physical, emotional, and financial hardships. Our Counsel Hound lawyers will work to maximize your settlement or award. Types of compensation you may be eligible for include economic and non-economic damages.
Medical expenses related to the diagnosis and treatment of your disease.
If the disease forced you to miss work or suffer a wage decrease at a new position, we will prove your losses with timesheets.
If you lost a loved one to mesothelioma or ovarian cancer, you may be able to recover funeral or burial costs.
Some damages cannot be proved with lost wages, property damages, etc. You and your loved ones may face emotional suffering as a result of the disease. Our lawyers will work to include all available compensation in your case.
Filing a talcum powder lawsuit/claim can help:
Victims of asbestos exposure focus on health and treatment.
Families afford the cost of their loved one's medical and funeral expenses.
Hold manufacturers and companies accountable for asbestos negligence.
Encourage other victims of asbestos exposure to seek fair compensation for their injuries.
You may be eligible to file a wrongful death claim on behalf of a loved one who suffered from an asbestos-related disease. Contact Counsel Hound for a free consultation to discuss your options.
The amount of time you have to file a claim depends on the statute of limitations in your state. Contact Counsel Hound to discuss your eligibility.
Counsel Hound offers no-cost consultations and case evaluations. Many lawyers work on a contingency fee meaning the attorney fees come from your settlement award once you win. If there is no recovery, you will not have to pay anything.
No-Cost Case Evaluation
Law is complicate matter. It can cause you a big problem if you ignore it. Let us help you!
Law is complicate matter. It can cause you a big problem if you ignore it. Let us help you!