Pressure cookers have risen in popularity over the past decade as their manufacturers advertise them as a safe way to prepare food quickly. An increasing number of people are reporting dangerous pressure cooker explosions that cause severe burns and other serious injuries. Sunbeam recently recalled more than 900,000 crockpots due to dangerous burns and catastrophic explosion-related injuries.
[1]
Counsel Hound's dedicated pressure cooker injury attorneys are proactively fighting for compensation across the country, and you may be entitled to compensation for your injuries and suffering. Contact us now if a defective pressure cooker seriously harmed you or a loved one. The personal injury attorneys at Counsel Hound are ready to help.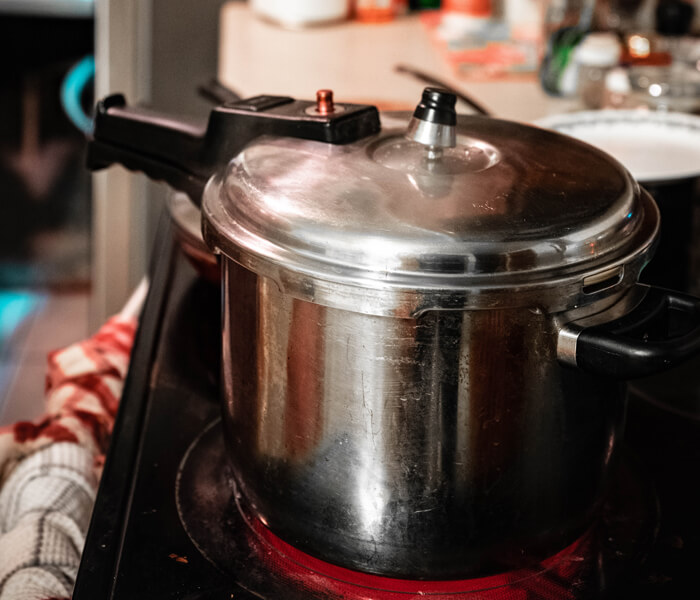 Common Pressure Cooker Injuries
Accidental pressure cooker explosions may cause consumers to suffer injuries such as burns, blindness, amputations, and even death.
Burns– The most common pressure cooker accident injuries are burns. Severe burn injuries that cover a large portion of a person's body may lead to amputations or infections.
Electrocutions– If the pressure cooker has insufficient insulation, electrical circuits could melt or come into contact with water or steam, causing a short circuit.
Explosions– If the pressure cooker has leaky seals or is accidentally overfilled, then the risk of explosion is increased. A faulty pressure cooker may explode if a faulty seal allows the cooker's content to leave the pot, or it may occur if the lid is opened before it is fully depressurized.
Pressure Cooker Malfunctions
Safety Locks and Latches: locking lids are designed to protect consumers from accidentally opening the pressure cooker. If the safety devices fail, a spontaneous explosion or leak may occur.
Pressure Control: If the pressure controls fail, too much pressure can build up and cause a leak or explosion.
Temperature Control: Pressure cooker temperatures are often regulated digitally. If the sensors fail, the temperature may increase, thereby increasing pressure. This would increase the likelihood of an explosion or leak, and the burns may be more severe.
Timer Malfunctions: Many consumers have filed lawsuits due to timer malfunctions. In many of these cases, the victims were prompted to open the cooker before the pressure had fully released.
The U.S. Consumer Product Safety Commission has recalled the following models of pressure cookers due to injury risk:
Sunbeam Crock-Pot Multi cookers: The Crock-Pot model has experienced a malfunction causing the lid to pressurize even if the consumer did not properly lock the lid.[2] Over 100 consumers have reported lid detachments resulting in severe burn injuries. The company advises customers to immediately cease using these recalled cookers and contact the manufacturer to receive a free replacement lid.

Model Number: SCCPPC60-V1, sold between July 2017 and November 2020.

Nutri-Pot Express Crock Multi-Cooker: The Nutri-Pot is advertised as having a built-in safety feature that prevents users from opening the lid while pressurized, but many consumers have been burned after opening the lid while the Nutri-Pot was still under dangerous amounts of pressure.
Pressure cooker accidents can leave you with physical, emotional, and financial hardships. Our Counsel Hound-approved lawyers will work to maximize your settlement or award. Types of compensation you may be eligible for include economic and non-economic damages.
If your accident required surgery, physical therapy, prescription drugs, medical equipment, repeat doctor's visit, we would work to have you reimbursed.
If the accident forced you to miss work or suffer a wage decrease at a new position, we would prove your losses with timesheets.
If your home was damaged during the accident, we would include the cost of repairs in the losses sustained.
If you lost a loved one in a faulty pressure cooker accident, you might be eligible to file a wrongful death suit.
Some damages cannot be proven with lost wages, property damages, etc, and you may face emotional suffering as a result of the accident. Our lawyers will work to include all available compensation in your case.
Counsel Hound provides no-cost consultations and case evaluations.
The amount of time you have to file a claim depends on the statute of limitations in your state. Contact Counsel Hound to discuss your eligibility.
Unexpectedly losing a loved one is a traumatic experience. Counsel Hound lawyers are here to support you through this process. You may be eligible for a wrongful death claim and may be able to recover medical and funeral/burial expenses as well as compensation for emotional pain and suffering.
No-Cost Case Evaluation
Law is complicate matter. It can cause you a big problem if you ignore it. Let us help you!
Law is complicate matter. It can cause you a big problem if you ignore it. Let us help you!