3M's Combat Arms Earplugs™ allegedly has a dangerous design defect and does not maintain a tight seal. This defect exposed millions of service members to hazardous sound levels. Improper ear protection can lead to tinnitus and complete or partial hearing loss.
The Department of Defense brought allegations against 3M for selling dangerous and defective Combat Arms Earplugs™, and 3M paid $9.1 million to resolve the claim in 2018. However, service members who suffered the faulty earplugs' devastating effects first-hand were not compensated. Additionally, 3M was not required to admit the earplugs were defective or that it knowingly failed to disclose the defect.[1]
If you or someone you know were issued the defective 3M Combat Earplugs™ and have been diagnosed or are suffering from hearing loss and/or tinnitus, you may qualify for financial compensation. Overseas service is not required to be eligible. Contact Counsel Hound today for a no-cost consultation and case evaluation.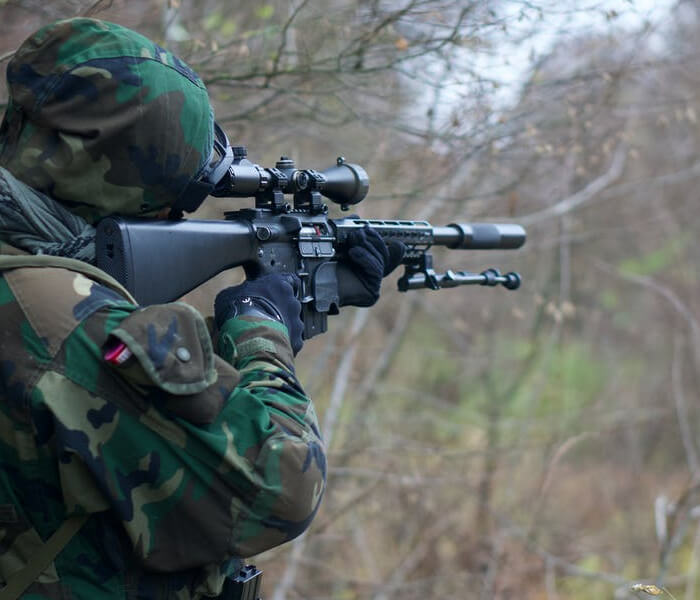 The following represents wars and foreign conflicts between 2003 and the present where service members were issued the Combat Arms Earplugs™:
War of Afghanistan
The Iraq War
War in North-West Pakistan (part of War on Terror)
War in Somalia
Operation Ocean Shield in the Indian Ocean
American-led intervention in Libya (2011- part of Libyan Crisis)
American-led intervention in Iraq (2014 – 2017)
American-led intervention in Syria (2014 to present)
Yemeni Civil War (2015 to present)
American Intervention in Libya (2015 to present)
To qualify for a 3M lawsuit, the service member must have served in the U.S. military, Reserves, or as a DOD contractor during one of the foreign conflicts listed above. They also must have used military-issued dual-end 3M Combat Arms Earplugs during military service. The service member must also have been diagnosed with bilateral hearing loss, unilateral hearing loss, or tinnitus during enlistment or within one year of discharge. The service member must not have had any pre-existing hearing loss or tinnitus and must not have been previously diagnosed with any of the following: Waardenburg syndrome, Branchiootorenal syndrome, Alport syndrome, Otosclerosis, or Meniere's disease.
Expenses Covered by Legal Compensation
Hearing damage can leave you with physical, emotional, and financial hardships. Our Counsel Hound lawyers will work to maximize your settlement or award. Types of compensation you may be eligible for include economic and non-economic damages.
If you incurred medical expenses from 3M-related hearing damage, we would work to have you reimbursed.
If the hearing damage forced you to miss work or suffer a wage decrease at a new position, we would prove your losses with timesheets.
Some damages cannot be proven with lost wages, property damages, etc., and you and your loved ones may face emotional suffering as a result of the hearing damage. Our lawyers will work to include compensation for your suffering in the settlement or award.
Filing a lawsuit/claim can help:
Victims of hearing loss and tinnitus focus on health and treatment.
Families afford the cost of their loved one's medical expenses.
Hold 3M manufacturers accountable for negligence.
Encourage other victims of 3M-related hearing damage to seek fair compensation for their injuries.
Two U.S. Army veterans were awarded $110 million by a federal jury in Florida on January 27, 2022. The veterans were given 3M combat earplugs and claim the defective earplugs resulted in hearing damage. Of eleven 3M lawsuit trials, this was the largest verdict yet. The jury awarded $30 million in compensatory damages and $80 million in punitive damages.
[2]
A federal jury in Tallahassee awarded Theodore Finley, a combat veteran, $22.5 million in the eighth 3M earplug bellwether trial. Finley used 3M earplugs while serving from 2006 to 2014, and he alleged that the earplugs caused him to experience hearing loss and tinnitus. 3M called the verdict disappointing but remained confident that the Combat Arms Earplugs Version 2 was safe and effective.
[3]
3M was found liable by a federal jury in Pensacola, FL on October 1, 2021, and 3M was required to pay $8.2 million in damages to compensate a 35-year-old U.S. Army veteran for his hearing loss. This was the fourth bellwether trial designed to test the strength of plaintiffs' claims. The next trial is scheduled for October 18.
[4]
U.S. District Judge M. Casey Rogers ruled that an upcoming 3M bellwether case will go to trial on October 18, as scheduled. 3M previously filed for summary judgment, arguing that the plaintiff's case was time-barred. Judge Rogers rejected 3M's arguments and believed the ruling would accelerate the trial process.
[5]
3M has already undergone three bellwether trials and is facing 240,000 claims. The first trial resulted in a $7.1 million verdict. 3M was found 67% liable during the second trial and was cleared of liability in the third trial.
[6]
In late July, U.S. District Judge John Tunheim rejected 3M's argument that its status as a U.S. military contractor allowed it to move the case to federal court. Judge Tunheim believed he did not have jurisdiction over the eight cases and that 3M failed to establish federal jurisdiction. As a result, the 3M trials are allowed to continue in state court.
[7]
Yes, you may still qualify. Contact Counsel Hound to discuss your eligibility during a no-cost consultation and case evaluation.
No-Cost Case Evaluation
Law is complicate matter. It can cause you a big problem if you ignore it. Let us help you!
Law is complicate matter. It can cause you a big problem if you ignore it. Let us help you!