Surgical staplers and staples can be more effective than traditional stitches for big or complex wounds. Staples allow for quick placement and strong wound closure with minimal tissue reaction and a low risk of infection. Staplers and staples can be used internally and externally.
[1]
While there are many advantages to using staples over traditional stitches, there are many risks as well. The FDA reports most issues with staplers come from being utilized internally. From 2011 to 2018, over 9,000 serious injuries and 32,000 malfunctions from surgical staplers and staples were reported to the FDA.
[2]
If you or a loved one was injured from a surgical stapler complication, contact Counsel Hound today for a no-cost consultation and case evaluation.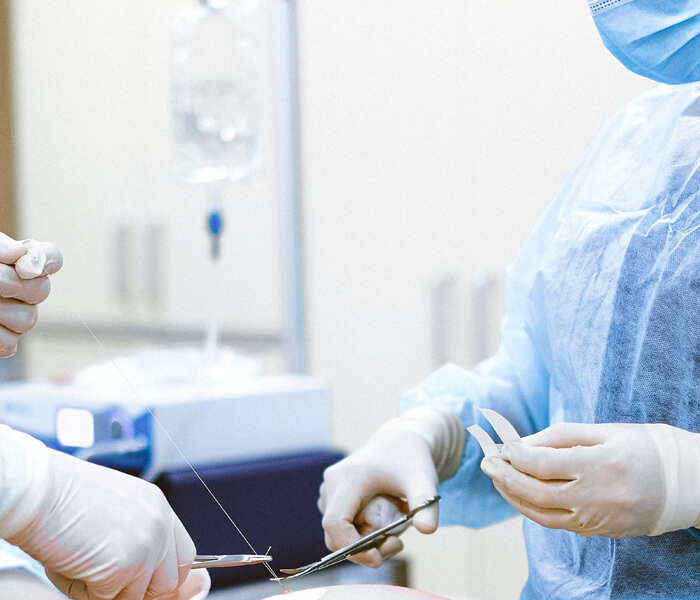 According to the FDA, commonly reported problems with surgical staples include:
[3]
Misapplied staples
Stapler misfiring
Difficulty in firing stapler
Stapler failing to fire
Staple line opening
Malformation of staples
The FDA also reports that surgical staple malfunctions may lead to the following complications:
[4]
Bleeding
Sepsis
Fistulas
Torn internal tissues and organs
Increased risk of cancer recurrence
Death
In April 2019, the FDA issued guidance to provide labeling recommendations for surgical staplers and staples for internal use due to malfunctions and misuse causing serious complications and death. The FDA also proposed reclassifying surgical staplers from Class I to Class II medical devices. This would allow the FDA to establish mandatory special controls and require premarket notifications.
[5]
The FDA issued a recall of Ethicon Endo-Surgery Intraluminal Staplers in April 2019, two weeks before the new labeling guidance was released. The recall was identified as the most serious type of recall, Class I recall. The FDA warns that the use of Class I recall may result in serious injuries or death.
[6]
You may be eligible to file a wrongful death claim on behalf of a loved one who suffered from a surgical stapler medical complication. Contact Counsel Hound for a no-cost consultation to discuss your options.
The amount of time you have to file a claim depends on the statute of limitations in your state for your case. Contact Counsel Hound to discuss your eligibility.
Counsel Hound offers no-cost consultations and case evaluations. Many lawyers work on a contingency fee meaning the attorney fees come from your settlement award once you win. If there is no recovery, you will not have to pay anything.
No-Cost Case Evaluation
Law is complicate matter. It can cause you a big problem if you ignore it. Let us help you!
Law is complicate matter. It can cause you a big problem if you ignore it. Let us help you!