Hernias are a common medical condition affecting men, women, and children. More than 1 million hernia repairs are performed each year in the U.S. One option surgeons have to strengthen the hernia repair and reduce hernia recurrence is to use surgical mesh. Hernia mesh may decrease operative and recovery time, but it is not always recommended for patients. As of 2021, there are approximately 15,000 hernia mesh lawsuits in the U.S. The hernia mesh lawsuits claim the manufacturers of hernia mesh products have failed to properly warn medical providers of the possible complications and device failures and defectively designed the medical devices. Manufacturers of hernia mesh have allegedly been marketing the products to medical providers for unnecessary repairs that surgeons could fix with alternative procedures. Contact Counsel Hound today for a no-cost consultation and case evaluation if you or a loved one has experienced severe complications resulting from hernia mesh.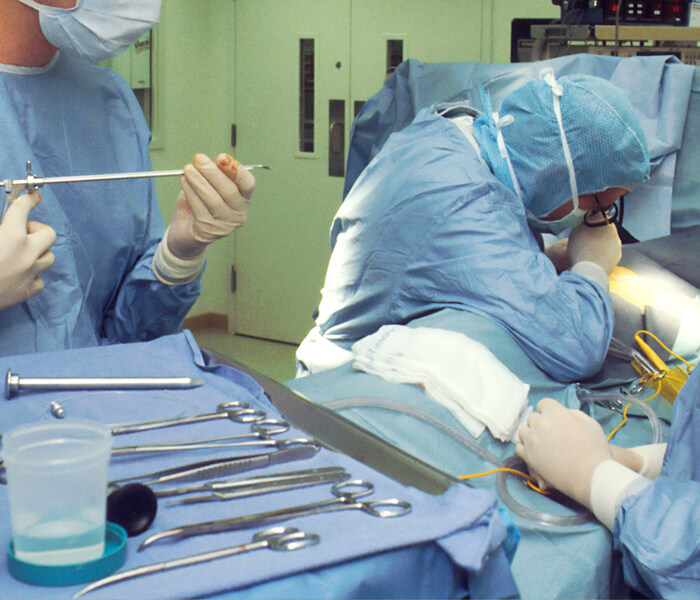 A hernia typically occurs when an organ or intestine pushes through a weak spot in the surrounding muscle. The most common location for a hernia is in the abdominal wall. Anything that leads to an increase in abdominal pressure can cause a hernia. This may include lifting heavy objects, constipation, or persistent coughing/sneezing.
[1]
The most common types of hernias are:
Femoral: occurs in the upper thigh or outer groin
Hiatal: occurring along with the upper stomach/diaphragm
Inguinal: occurs in the inner groin
Incisional: occurring in an incision or scar in the abdomen
Umbilical: occurring in the belly button
Ventral: occurring in the abdominal ventral wall
Surgical Mesh Information
Surgical mesh is classified as a medical device. It provides additional support to weakened or damaged tissue, which is a primary cause of hernias. The FDA has found that many reported complications of hernia repair using surgical mesh have been from recalled mesh products.
[2]
The FDA has found that the most common adverse events for the surgical repair of hernias are:
Adhesion
Bowel obstruction
Contraction
IHernia recurrence
Infection
Pain
Hernia mesh complications can leave you with physical, emotional, and financial hardships. Our Counsel Hound lawyers will work to maximize your settlement or award. Types of compensation you may be eligible for include economic and non-economic damages.
If you incurred medical expenses related to the diagnosis and treatment of your condition, we would work to have you reimbursed.
If the disease forced you to miss work or suffer a wage decrease at a new position, we would prove your losses with timesheets.
If you lost a loved one due to hernia mesh complications, we would work to recover funeral or burial costs.
Some damages cannot be proven with lost wages, property damages, etc., and you and your loved ones may face emotional suffering because of the condition. Our lawyers will work to include all available compensation in your case.
Counsel Hound offers no-cost consultations and case evaluations. Many lawyers work on a contingency fee meaning the attorney fees come from your settlement award once you win. If there is no recovery, you will not have to pay anything.
No-Cost Case Evaluation
Law is complicate matter. It can cause you a big problem if you ignore it. Let us help you!
Law is complicate matter. It can cause you a big problem if you ignore it. Let us help you!